Out Now:
Pandeirista Scott Feiner Releases
Fourth Album and First of All-Original Music,
A View From Below
A View From Below Avaliable Now
Former Guitarist Left New York City for Rio de Janeiro
To Pursue His Dream of Mastering The Pandeiro,
A Brazilian Hand Drum
Along The Way, He Combined His Love for Modern Jazz Harmony and The Pandeiro
Four Star Rave Review In March Down Beat Magazine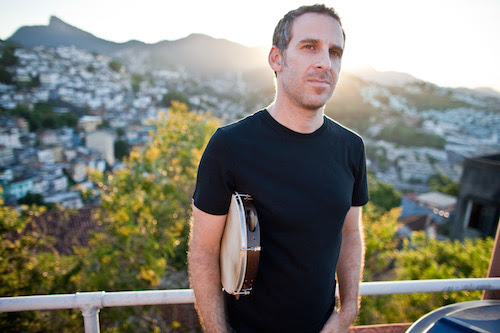 Few musicians can be credited with creating their own genre but that's precisely what Scott Feiner has done with his Pandeiro Jazz project. Upon the release of Feiner's first album in 2006 the celebrated pianist Brad Melhdau wrote, "Scott Feiner has created a unique sonic world … full of subtlety and surprise."
A View From Below, his fourth album, marks an exciting turning point for Feiner, as it's the first recording solely featuring his engaging original compositions. It's also a stylistic departure due to the unique format featuringpandeiro, guitar and keyboards – a surprising new take on the concept of a "power trio." Feiner's previous three albums were more acoustic in nature.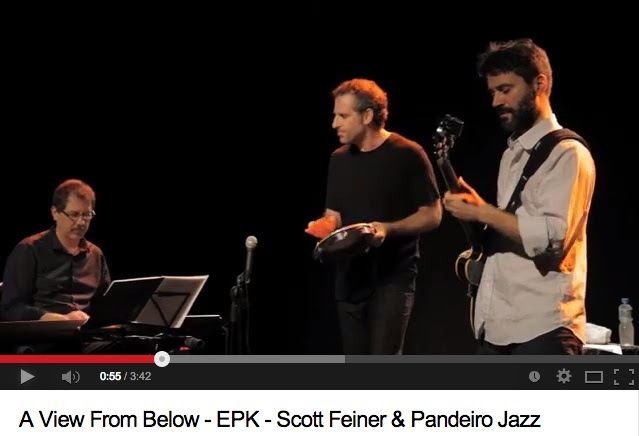 Watch EPK About A View from Below on YouTube
The Brazilian pandeiro is a hand drum that looks like a tambourine, but has a much wider range of sounds – imagine a handheld drum set.  The low bass tones you hear on the recording are coming from this small drum.
Feiner is joined by two Brazilian musicians on A View From Below: pianistRafael Vernet on vintage Fender Rhodes and Wurlitzer keyboards, and guitarist Guilherme Monteiro. Vernet, who is based in Rio de Janeiro, has performed and/or recorded with artists such Brazilian greats as Hermeto Pascoal, Toninho Horta and Joyce. Monteiro, who has worked with Ron Carter, Luciana Souza, Eliane Elias, and Anat Cohen, has been based in New York City for many years, and is also a founding member of the group Forró in the Dark.
It's easy to assume that a trio consisting of two Brazilians musicians, with a pandeiro as the sole percussion instrument, would be playing  "Brazilian Jazz," but that's not the case here. The variety in Feiner's compositions on A View From Below, as well as his unique approach to the pandeiro, result in something that cannot be so easily labeled.  As the legendary Brazilian singer-composer Joyce stated after performing with him: "Scott Feiner isn't just another gringo who plays pandeiro. He's the inventor of a mixed language that's completely his own."